How it all began? So we, me and Roland, decided to use that moment when the days of cheap airfares and go to Bremen to enjoy last autumn days.
Arrival
Hostel we reserved (hostelbookers.com) already one month in advance and it was 10 min drive from the airport and the center of Bremen (Bremen Southend Hostel, southendhostel-bremen.de).
The flight went smoothly and already in Bremen, we decided that weather is too good to go with public transport and went on foot, enjoying the Bremen office and later residential areas. First, we wanted to go to Hostel, but because we did not have a city map, we went to the center of Bremen. First we saw a bridge over Weser river with small market under bridge. There was able to buy clothes, shoes, lamps, of unknown origin discs, toys and everything that in the home can be found. Next to the main square, on Saturday morning in full swing at the beautiful St. Petri church was another market.
There was able to taste fruits, cheeses and German favorite dishes. We both didn't taste this time, because the row was too big, and if you do not know exactly German, then read descriptions and titles of food is not possible. As has been thoroughly tourists we ate nearby in the "Subway" sandwich and salad fast food restaurant. My very surprised, that a normal coffee shop, with ordinary dishes there is a rarity. There is generally sandwich, pizza and kebab street-shops on every corner.
St. Petri Church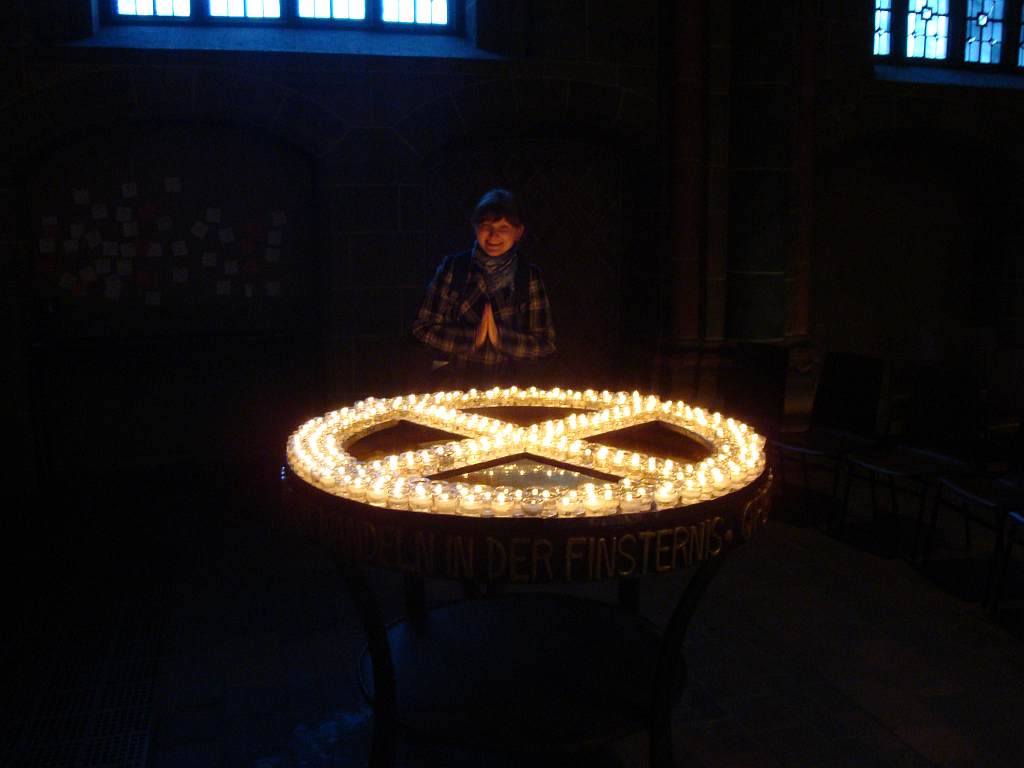 Later we went look St. Petri Church, which is simply charming and famous Die Bremer Stadtmusikanten (Bremen Town Musicians/Town Musicians of Bremen), or better known as the Bremen city musicians. Touched the donkeys legs. It was a moment of time when should be made a wish. Didn't miss also Roland's Statue and the town hall. Walked through the old city and went to the hostel, on foot.
Hostel (Hostel Southend Bremen)
The hostel was a small and nice and hospitable. In hostel Staffordshire terrier (Deby) were waiting for us. The only minus was the fact that the communal areas (a reasonable room and rest guest room) was over-smoked. But it wasn't so on next days. But we closed eyes on that, because the fee was really small. We shared room with another girl from New Zealand, who had already toured from June to America and now is in Europe. And she knew of Latvia. We were gladden. Later went to the center.
On Wednesday evening there was intensive shopping, we went to some stores, but I was disappointed to see full shelves with no-size sweaters by the extremely high prices. And quickly went away from there. On one of the main small street I found the shop where on a normal money I bought two blouses. In Latvia for that money I couldn't buy. Look at passages with shops and went to nearly located cafe-bar drink the famous Beck's beer.
Beer was good, we stayed up to the closure. I should say that they are closing at 20:30 – 21:00. Back in hotel in room slept"as a kill", the same can not be said for our roommate, Roland's snore was very loud.
On next day we decided to sleep longer, because most of the shops are closed. Slow walk along the river. In river's right side was the woman sitting on a bench and played African drums-"djambe"? Went to Central station, to take a look in Bremen Ethnological Museum. Paid each of EUR 6.50. The museum was a huge with three floors. Able to view the largest world's cultures, stuffed animals and things that are associated with each culture. Houses, food, clothing, etc.. Already after the first floor legs were in pain. The third floor just couldn't anymore walked trough. It was decorated as an ancient and the modern of development of a port-city of Bremen. Had the opportunity to step on the simulated ship's deck and the master's room. Funny, but tiresome. When we went out it was already dark.
We decided to eat in a cafe. Found the"TAV" (tav-bremen.de), which had enough deliciously goulash soup and pasta with a sauce of Bologna.
Went to Botterstrase and home to sleep. We were so tired and went sleep already at 21:00.
Next morning wake up was early on the last day to view Schnoor and buy gifts for home. First, went to the central station for fried chestnuts, realize that I am wasted 2 euro, wasn't tasty. Taste was something slightly from sweet potatoes and something else. Look"Mühle am Wall" (cafe-restaurant mills).
At St. Petri Church was again street market, where I bought Brie cheese. Then Böttcherstrasse tea shop with the odoriferous almonds, Advent and Christmas teas. And Schnoor. Miniature streets and small shops. Like a gnome house. This remind me Prague"Zlata ulicka". In one of the stores bought the small earrings. Very nice. Evening spent settling bags and see and photos, impressions.
Good-bye from Bremen for us was very nice. Rain and wind. We came at the airport as a"wet rat". Such was our Bremen. It is a pity that couldn't view Rhododendrons park, but I liked. And also Roland enjoyed. Anyway, it was intended as a simple holiday trip.
Photos: flickr.com/photos/rolandinsh/tags/triptobremen/
*changed
Note from `rolandinsh`: I recomended already Hostel to my coworker.